Small businesses, remote offices and branch offices (ROBOs) need the power of traditional data centers, but they also require a simpler approach to infrastructure deployment and management. Modernization is a major driving force for these smaller organizations, especially when it comes to adopting mobility and cloud computing, and updating older platforms such as servers, storage and networking.
According to the recent Purchasing Intentions Survey conducted with 1,311 registered visitors of TechTarget sites, the 2015 IT investment appetite by small and midsized organizations is quite healthy. In fact, it appears to be far stronger than that of respondents in large enterprises: 44% of small organizations (those with fewer than 100 employees) and 58% of those with between 100-999 employees said they intend to increase their 2015 IT budget compared with 2014. By comparison, only 36% of large enterprises said their IT budgets would grow this year over last year.
Among these smaller organizations, there are several technology investment areas that stand out:
1. Mobility: Small businesses and ROBOs are more likely than their big-company counterparts to invest in bring-your-own-device programs, mobile content management and corporate-issued mobile device programs, according to the TechTarget research. Given this heightened emphasis on mobility, it also follows that smaller organizations are more likely to deploy new endpoint security solutions than are large organizations.
2. Virtualization and cloud computing: Smaller organizations and ROBOs are more likely to adopt network virtualization, cloud storage, cloud backup and cloud application development.
3. Migration: Whether it's because smaller organizations have lacked the necessary budget or have not been deploying mission-critical workloads, many small businesses and ROBOs have been laggards when it comes to migrating to new platforms. But that's changing quickly, according to the research. Smaller organizations are more likely to say they will be migrating to Windows Server 2012, Windows 10 and vSphere 5.5.
4. Workloads: As small businesses and ROBOs increasingly deal with new types of workloads, there is more emphasis being placed on how to support those initiatives. For instance, small and midsized organizations say that disaster recovery and business continuity are their top backup and storage initiatives for 2015. Also, these smaller organizations are far more likely than are large enterprises to embrace social collaboration for 2015.
What's driving these investment choices by small businesses and ROBO organizations in 2015? More times than not, it's a combination of the changing IT demands on smaller organizations and the increased availability of new infrastructure that is right-sized for their needs.
Must Read
Evaluating CI Solutions for Data Center Modernization
Learn the framework Forrester uses to assess cloud alternatives and view a real-life example of using the TEI approach.
Continue Reading
For instance, it wasn't long ago that small businesses' infrastructures were running limited numbers of applications and fairly simple workloads. But even as those organizations quickly adopted cloud-based services, they found that their on-premise infrastructure needed to be upgraded in order to support such workloads as e-commerce, compliance, e-discovery, analytics and security.
At the same time, IT departments realized that their ROBO-based users needed the performance and scalability enjoyed by headquarters-based employees, although in packages that needed to be smaller, more affordable and easier to manage. Converged infrastructure, in particular, is becoming a hot area for small businesses and ROBO organizations looking to upgrade and modernize their infrastructure to support more diverse and demanding workloads, while creating a future-proofed way to ensure scalability as users' needs evolve.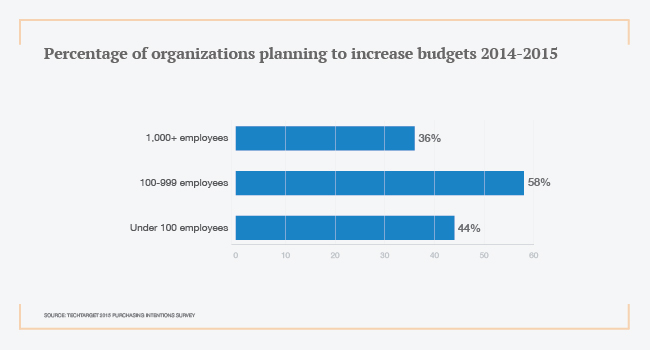 Dell EMC Solutions are powered by Intel®