IT organizations are seeking greater security and control over users, data and devices. As a result, desktop virtualization is continuing to gather momentum as vendors further push the envelope with technology innovations.
When asked by TechTarget which desktop projects their companies will pursue in 2015, the highest percentage of respondents—approximately 30%—cited implementing application virtualization.1
The strong interest in desktop and application virtualization is echoed by other research as well: One recent survey says the desktop virtualization market is growing at a compound annual rate of nearly 55% and will expand from $1.6 billion in 2014 to more than $14 billion by 2019.2
A deeper dive into the TechTarget research reveals some of the reasons behind this growth. Desktop and application virtualization solutions give IT departments the opportunity to centrally manage and control corporate desktops, limiting security vulnerabilities by minimizing the data and applications that reside locally on devices.
When properly deployed, desktop virtualization can be a valuable tool in lowering total cost of ownership (TCO), improving security, enabling bring-your-own-device (BYOD) programs, enhancing mobility and increasing productivity.
These are all critical issues for IT decision makers in 2015. For example, more than 45% of respondents to the TechTarget survey said they would implement a BYOD program for smartphones or tablets in 2015, and 35% said they plan to start a corporate-issued mobile device program.
Security is another important focus for IT leaders: 28% of TechTarget respondents said they are implementing data loss prevention initiatives, 24% have chosen virtualization security, and another 23% are doing mobile endpoint security, among other responses.
The gathering momentum for desktop virtualization is not just coming from customer demand: It is also being driven by technology advances that have made it a viable option for a broader range of users and workloads than ever before.
Early implementations of desktop virtualization were often plagued by unpredictable cost structures—particularly for storage—that often spiraled out of control. In addition, many projects didn't make it out of the pilot stage because they failed to deliver a user experience that was comparable to what users had come to expect on fully loaded desktop and laptop devices.
Must Read
The Cost of Using the Public Cloud
Read the report from the Evaluator Group comparing the cost of an on-site HCI solution with a public cloud option.
Continue Reading
The dynamics and costs of implementing desktop virtualization and delivering a solid user experience have changed dramatically since the early days, which were really just a few years ago. Major changes have taken place in these key areas:
Converged and hyper-converged infrastructures: With new solutions such as hyper-converged infrastructure appliances, organizations can be much more accurate in predicting costs and enabling simplified scalability. In addition, these solutions allow for a back-end infrastructure that can be designed specifically for the desktop virtualization environment, reducing the complexity in deployment and provisioning.

Availability of enterprise-class flash storage: Desktop virtualization puts pressure on traditional hard-disk-drive storage because it demands high IOPS performance during boot storms and other periods of peak usage. The availability of affordable flash storage has made a huge difference in enabling IT to deliver the performance required for virtual desktop environments.

Accelerated graphics capabilities: As noted, for desktop virtualization to succeed and be accepted, it must deliver a sound user experience. Vendors have significantly improved the graphics capabilities in desktop virtualization with innovations such as virtualization graphics (vGPU). Today, it is viable for IT to deliver desktops for any user in any type of use case, including the most complex workstation-class workloads.
Any IT leader who looked at desktop virtualization several years ago and found it lacking should consider taking a second look. The technology has improved and the challenges that desktop virtualization can help to address—security, mobility, costs, productivity and availability—have only become more complex and important to the overall business.
12015 Purchase Intentions Survey, TechTarget, December 2014
2"Desktop Virtualization Market—The Future of Corporate Infrastructure—Market Penetration and Stakeholder Analysis (2014-2019)," Information & Communications Technology, November 2014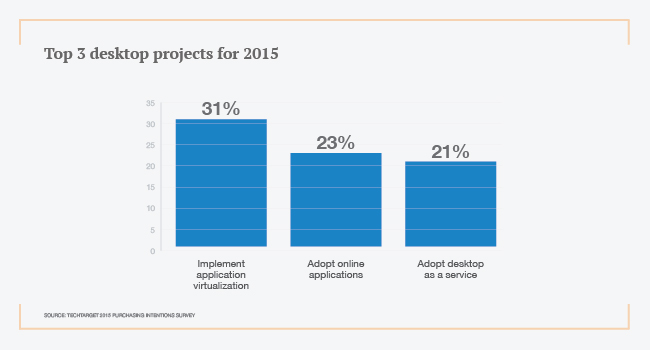 Dell EMC Solutions are powered by Intel®