Network virtualization and software-defined networking (SDN) are among the top priorities for IT decision makers in 2015, according to a survey of more than 1,300 IT professionals conducted by TechTarget at the end of 2014.1 Approximately 29% of respondents cited network virtualization as one of their key initiatives for 2015, which was the second leading networking category behind network management and monitoring. An additional 16% of respondents chose the related category of SDN as a key implementation target for 2015.
Among companies with 1,000 or more employees, the numbers were even higher: 34% of larger enterprises are pursuing network virtualization initiatives in 2015 and 23% are doing SDN.
There are a number of factors driving this strong interest in network virtualization and SDN. As server virtualization has proliferated in data centers, many IT departments are finding that network performance can be a bottleneck to delivering the speed, agility and bandwidth required for modern applications.
Virtualization and SDN, along with other solutions such as Ethernet fabrics and 10 Gigabit Ethernet, are among the technologies that are enabling companies to address network performance and agility. To further illustrate the importance of network speed, 68% of respondents to the TechTarget survey said they will be using 10-GbE in 2015, a large increase from last year.
In addition, as data centers are tasked with handling more data, transactions and users, network growth and expansion can add significant complexity to IT management and provisioning—which is certainly one of the reasons why network management and monitoring are IT's number one networking priority for 2015.
Network virtualization and SDN provide a path to network architectures and design models that are much more suited to the demands of today's business-critical applications. With both network virtualization and SDN, network designers can simplify provisioning, scaling and ongoing network management/monitoring. In addition, network virtualization and SDN can help to reduce total cost of ownership, improve availability of applications and strengthen network resiliency.
Network virtualization is a method of combining the available resources in a network by splitting up the available bandwidth into channels, each of which is independent from the others, and each of which can be assigned (or reassigned) to a particular server or device in real time. Each channel is independently secured. Every subscriber has shared access to all the resources on the network from a single computer.2
Must Read
When FUD Fizzles
Find out why circulating fear, uncertainty and doubts about the strategies of your competitors doesn't always work.
Continue Reading
SDN is an approach to networking in which control is decoupled from the physical infrastructure, allowing network administrators to support a network fabric across multi-vendor equipment.3 A major advantage of SDN is that it can support a more open networking environment so that customers are not locked into proprietary switches.
Many network analysts and experts consider network virtualization and SDN as models for next-generation network designs. According to one survey, SDN could influence as much as 40% of all networking spending within the next few years.4 As seen in the TechTarget research, the paradigm is already shifting: For many organizations the network of the future is now.
12015 Purchase Intentions Survey, Tech Target, December 2014
2"Network Virtualization," TechTarget, SearchServerVirtualization
3"Software-Defined Networking," TechTarget, SearchSDN
4"SDN Market Size Expected to Reach $35B by 2018," SDN Central, April 24, 2013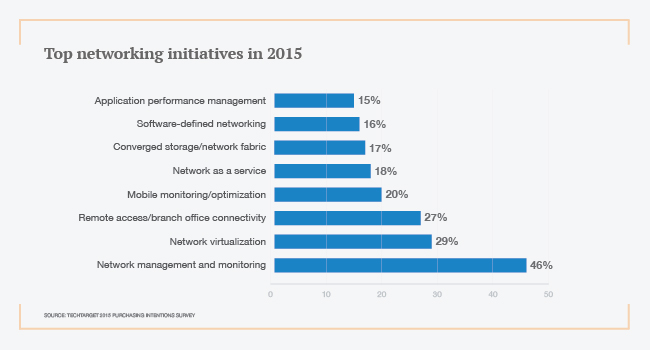 Dell EMC Solutions are powered by Intel®