Solid-state storage has rapidly become a mainstream technology for organizations of all sizes, industries and geographies. Sales of solid-state solutions—primarily flash storage—are growing at impressive rates due to the technology's high performance, ability to dramatically improve cost-per-capacity metrics, small form factor and low power consumption.
For instance, market research firm IDC says global sales of flash-based disk arrays skyrocketed past $11 billion in 2014. This includes both all-flash arrays and hybrid arrays, which utilize a combination of both flash storage and traditional hard disk drives.
Must Read
EMC Named a Leader in 2016 Integrated Systems Magic Quadrant
See why Dell EMC was named a leader for the third year in a row.
Continue Reading
Data from TechTarget's annual Purchasing Intentions survey further support the idea that the heady growth rates of solid-state storage are likely to continue for the foreseeable future. More than one in five (22%) of the 1,311 IT professionals responding to the survey said their organizations intend to deploy solid-state storage in 2015, an increase of five percentage points from the previous year's survey.
That forecasted growth in solid-state deployments holds true across the board among respondents in different geographic regions and in different company sizes. For instance, geographic deployment rates for 2015 range from 20% in Asia-Pacific to a high of 29% in Africa/Middle East. Among respondents from large enterprises (those with more than 1,000 employees), 23% said they were planning new solid-state deployments in 2015; even 18% of respondents in small organizations said they expect to deploy solid state in the coming year.
There are numerous factors driving increased interest in flash-based solutions, including new technical advances supporting storage services such as snapshots, encryption, replication and data deduplication. For some time now, flash storage has been widely supported in leading storage management software environments. As a result, flash storage has enjoyed increased adoption in data centers looking to either consolidate multiple infrastructure sites into a single, more efficient one or to dramatically increase storage density and ease storage management in their existing data centers.
Another driving force is that solid-state solutions no longer are the sole domain of relatively young and small niche suppliers. While numerous innovative and agile startups have made their mark in solid-state storage, the category now has drawn the attention and commitment of every major enterprise storage solutions company. This has helped to give IT organizations increased confidence that solid-state technology will continue to benefit from large suppliers' significant research-and-development capabilities, as well as their extensive knowledge of data center infrastructure trends and their ability to service and support their solutions globally.
As Tim Stammers, a senior analyst at 451 Research, recently noted on SearchSolidStateStorage.com, the falling cost of flash storage is driving increased adoption of all-flash arrays. "On a cost-per-gigabyte basis, enterprise flash drive prices fell hugely between 2012 and 2014," he said, citing the move from SLC to MLC technology as a key factor.
While that transition is nearly complete, Stammers added that there are other drivers that will contribute to consistent price reductions for flash arrays. "Increasing density of raw flash chips will help keep prices pointed downwards, and we will see enterprise flash products based on 3-D flash—the next evolution of flash chip architecture—keep per-gigabyte prices falling," he said.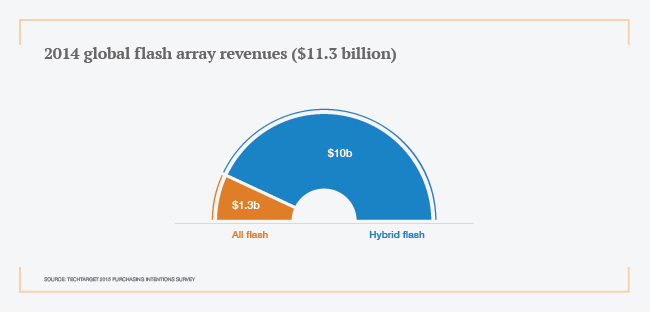 Dell EMC Solutions are powered by Intel®