IT decision makers have more flexibility than ever in addressing the backup and recovery challenges of remote and branch offices—and in 2015 they plan on taking full advantage of this broader set of options, according to exclusive research by TechTarget.
As many organizations move away from tape and implement disk-based backup solutions, IT departments are finding that they can utilize technologies such as deduplication, compression and snapshots to accelerate backup times and improve both recovery time objectives (RTOs) as well as recovery point objectives (RPOs).
In addition, cloud-based backup and recovery solutions are providing cost-effective alternatives that have proven to be particularly helpful in remote settings where there may not be IT personnel physically present to manage backup and recovery.
Disaster recovery and business continuity represent the leading backup storage initiatives for IT departments in 2015, according to the more than 1,300 IT professionals surveyed by TechTarget for its 2015 Purchase Intentions Survey, compiled in December 2014.1
Approximately 46% of the respondents to the survey said they are deploying disaster recovery and business continuity backup solutions in 2015—which should surprise no one at a time when the negative effects of downtime are rising dramatically. In fact, the latest study from the Ponemon Institute indicates that the cost of downtime grew by a staggering 41% between 2010 and 2013, and is estimated to be approximately $7,900 per minute.2
But disaster recovery and business continuity are not the entire story for backup in 2015, and many of the solutions that are being deployed will make it much simpler and more economical for IT to address the backup challenges of remote and branch offices.
According to the TechTarget Purchase Intentions Survey the other key backup storage initiatives that are driving IT decisions in 2015 include backup for virtual servers; continuous data protection; cloud backup; data deduplication for backup; snapshots/replication; and laptop/mobile device backup.
These initiatives all represent rising trends in the market, particularly:
Recognition of the importance of virtualization to facilitate and improve disaster recovery.

The shift to disk-based backup to improve speed and responsiveness.

The growth of cloud-based models for backup and recovery to enable simplified scaling and improve business agility.
Must Read
The Cost of Using the Public Cloud
Read the report from the Evaluator Group comparing the cost of an on-site HCI solution with a public cloud option.
Continue Reading
From the responses to the TechTarget survey it is clear that IT departments are embracing technologies and methods to reduce the amount of data being stored and improve recovery times, facilitating the shift from disk to tape for both on-premises and cloud-based solutions.
And, as technologies such as data deduplication and snapshots become standard for most backup and recovery solutions, they will play an increasingly significant role in accelerating backup and recovery for remote and branch offices. Today's backup and recovery solutions also have the potential to deliver increased uptime, lower overall costs and reduced risks for remote and branch offices.
12015 Purchase Intentions Survey, TechTarget, December 2014
2"Emerson Network Power, Ponemon Institute Study Finds Significant Increase in Cost of Unplanned Data Center Outages Since 2010," Emerson Network Power, Dec. 3, 2013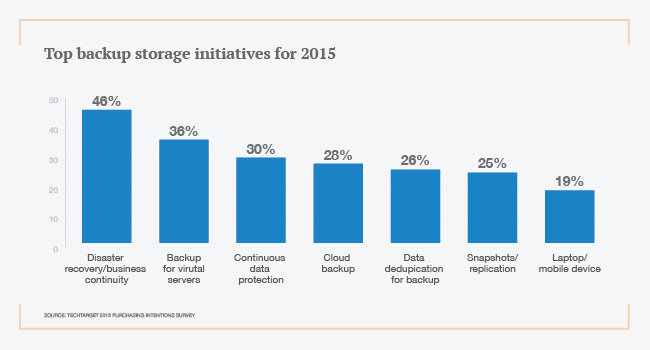 Dell EMC Solutions are powered by Intel®