Reduced costs is the No. 1 reason IT leaders are turning to hyper-converged infrastructure (HCI) as they strive to modernize their data centers, according to TechTarget Research. In a survey, nearly 50% of current users cited reduced cost as their top priority in deploying HCI, as did nearly 40% of prospective customers (see chart at bottom).1
It should be no surprise that IT leaders are embracing hyper-convergence as a means to drive IT transformation and reduce costs. IT teams are being tasked to do more with less, focusing on the true priorities of the business. With HCI, IT teams can modernize their infrastructure at their own pace while achieving significant cost savings and business benefits.
The most effective way to leverage HCI is with a fully integrated, prefigured and tested HCI appliance, versus trying to deploy a build-your-own (BYO) solution. A preconfigured solution such as Dell EMC VxRail delivers a total cost of ownership (TCO) advantage of more than 30% versus BYO HCI, driven by lower total cost of acquisition as well as savings in personnel, support and facilities.2
The TCO benefits of a turnkey solution
IT transformation is inevitable and necessary to enable and support digital transformation. Legacy IT stacks were not designed for the cloud/multi-cloud era and can't deliver the agility, cost efficiencies and reduced complexities required of modern applications and workloads. IT leaders know they must embrace solutions that modernize IT, and they recognize the inherent TCO benefits of HCI.
By leveraging a preconfigured turnkey solution, IT teams can not only accelerate their HCI deployments, but also drive major reductions in TCO. Research by the Edison Group concludes that the total acquisition cost of a turnkey solution such as Dell EMC VxRail is 8.5% less expensive than a BYO solution.3 In addition, the turnkey HCI solution delivers even more dramatic TCO improvements in terms of reduced management complexity, personnel support and facilities, including:
Deployment: BYO takes relatively 4.6X more time to set up than VxRail.
Initial system initialization and configuration: BYO takes 96 steps more and approximately 5 hours longer than VxRail.
System expansion: BYO takes 73 steps more and over 2 hours longer than VxRail. In addition, the potential for errors with VxRail is reduced via simplification of operational tasks.
The research also shows that turnkey HCI solutions lower TCO in a number of related areas, including reduced data center footprint, automated operation, rapid provisioning, enhanced data protection, higher performance, one-vendor service and support, lower personnel costs, and reduced licensing fees for servers, storage, networking and software.4
Must Read
Converged Infrastructure. Faster Outcomes. Simpler IT
Increase innovation time. Streamline Operations, cut costs ad get ahead with Dell EMC converged and hyper-converged infrastructure
Continue Reading
Beyond these specific savings, a turnkey HCI solution delivers a range of other business benefits that have a huge impact on reducing TCO. These include:
Increasing time to value in developing new products and services.
Supporting multi-cloud environments that give business units more agility and flexibility to address customer needs.
Achieving higher reliability and availability through automation to reduce risk of downtime.
Leveraging IT resources more strategically and enabling employees to move "further up the stack" to improve morale and retention rates.
Increasing the speed of business and innovation through modern technology.
Future-proofing IT with a software-defined solution that supports IT modernization, automation and transformation.
Conclusion
Digital transformation is reshaping how organizations build business models and relate to customers, employees and partners. IDC expects spending on digital transformation technologies to be more than $1.2 trillion in 2017, an increase of 17.8% versus 2016. A comparable compound annual growth rate is expected to continue through at least 2020.5
As companies embrace digital transformation, the ability to manage IT costs becomes an important and valuable business differentiator. HCI has become a critical pathway to digital transformation because IT leaders recognize its value in modernizing IT and driving down costs.
By starting with a preconfigured turnkey solution such as Dell EMC VxRail, IT teams can maximize TCO savings for the present, while positioning their organizations for the future of digital transformation.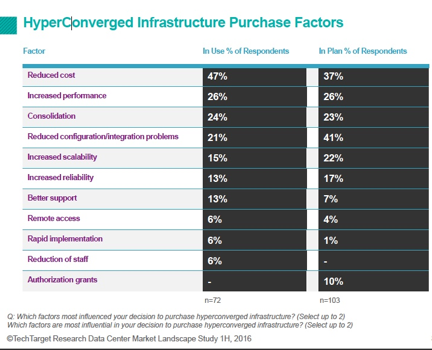 1 "Data Center Market Landscape Study," TechTarget Research, first half 2016
2 "Dell EMC VxRail Appliance Cost and Maintenance Advantages," Edison Group, May 2016
3 Ibid.
4 Ibid.
5 "IDC Forecasts $1.2 Trillion in Worldwide Spending on Digital Transformation Technologies in 2017," IDC, Feb. 23, 2017