Data centers may be the lifeblood of most organizations' IT efforts, but many enterprises are taking steps to control data center sprawl that often carries high costs, increased manpower requirements and management complexity.
Of course, many of today's data centers look very different from the stereotypical "clean room" environment marked by raised floors, cable trays and climate-controlled expanses of server racks. Increased server and storage density in smaller form factors and downsized power and cooling management systems have allowed organizations to build and operate smaller data centers in remote offices, while many organizations also have opted for co-located facilities run by service providers.
But for many organizations, the bottom line is that the expense and complexity of running multiple data centers have become a big challenge, resulting in a big push toward data center consolidation. In fact, IT professionals in the TechTarget network of technology sites said data center consolidation was their No. 1 initiative for 2015; 40% of the 1,311 respondents to the 2015 Purchasing Intentions Survey said their organizations plan to implement data center consolidation this year.
Take, for example, the efforts put in motion by the U.S. federal government. Two dozen federal agencies are participating in the Federal Data Center Consolidation Initiative, with a goal to reduce the federal government's peak total of more than 3,100 data centers by 40% by the end of 2015. One of the economic aims of this data center consolidation project is to trim IT spending among these agencies by $3 billion.
Many issues make data center consolidation both attractive and attainable. For instance, 42% of respondents to the TechTarget Purchasing Intentions Survey indicated that they plan to update their data center infrastructure in 2015. Other areas that are part of the move to a more agile, scalable and affordable data center environment include the widespread adoption of virtualized infrastructure and cloud computing. IT organizations continue to make investments in cloud computing a strategic part of their data center initiatives; 41% of those respondents said they will increase spending on cloud services, while 25% said they intend to create a hybrid cloud infrastructure. Finally, 22% said they expect to upgrade to the newest version of the industry's most popular virtualization hypervisor, vSphere, while another 15% said they expect to adopt converged infrastructure solutions.
Converged infrastructure, in particular, holds great appeal and hope for IT organizations looking to transform their data centers both through consolidation and by creating more resilient, scalable and manageable infrastructure in their primary/sole data center.
Must Read
The Cost of Using the Public Cloud
Read the report from the Evaluator Group comparing the cost of an on-site HCI solution with a public cloud option.
Continue Reading
By deploying hyper-dense, small form-factor solutions, IT departments can attain improved flexibility in how to deploy applications and workloads for maximum efficiency. Not only do converged solutions help to reduce capital equipment costs, but they also can provide substantial benefits in lower operating costs, such as power and cooling expenses, manpower and physical space requirements.
At the same time, by moving to a more virtualized infrastructure and adopting cloud computing in any of its multiple architectural approaches—public, private or hybrid—organizations are creating a more agile IT framework. Instead of having to buy, install and run more physical servers, storage or network infrastructure in their expanding number of data centers, IT departments can quickly and affordably spin up virtual infrastructure—and then take it down just as quickly, should conditions mandate.
This ability to customize the deployment and operations of disparate IT workloads is transforming the data center from an aging cost center to a modernized asset that encourages innovation in using IT to deliver essential business services.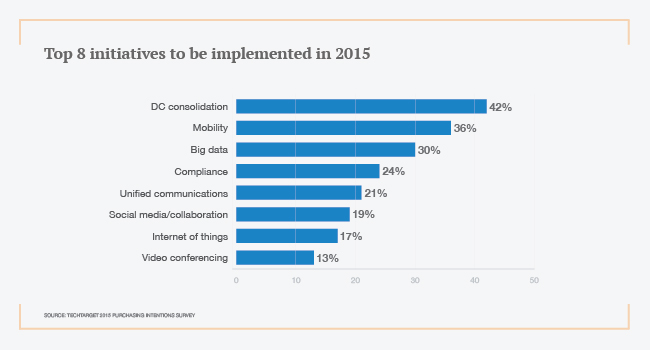 Dell EMC Solutions are powered by Intel®