IT departments are increasingly embracing bring-your-own-device (BYOD) programs and enterprise mobility initiatives. Enabling mobility was cited as the second most common of all IT initiatives for 2015 among more than 1,300 respondents to TechTarget's 2015 Purchase Intentions Survey, behind only data center consolidation.1
The survey results also reveal that IT professionals are focused on ensuring that they have the right tools, policies and technologies in place to streamline management, gain control over BYOD programs, enable mobile applications and minimize security risks. They are expanding their use of solutions such as mobile device management and mobile application development platforms to achieve these goals.
The growing emphasis on BYOD and enterprise mobility in 2015 is reflective of a broad industry-wide trend. Research from MarketsandMarkets estimates that the market for BYOD and enterprise mobility is growing at a compound annual rate of more than 25% a year, and will expand from $71.93 billion in 2013 to $266.17 billion in 2019.2
BYOD and mobility initiatives can deliver tremendous value for organizations, including improved employee productivity, lower costs and support for flexible working conditions. However, they also bring potential risks if they are not deployed smartly.
The debate over whether to support BYOD is pretty much over. Most organizations have recognized that workers will use their own devices for business purposes whether they are sanctioned or not, so it is better for the business to sanction the devices and establish processes and policies governing their usage.
With the right tools and platforms in place, IT can significantly reduce security risks and centrally manage BYOD initiatives. In 2015, IT departments seem determined to assert control over BYOD and enterprise mobility, based on their purchase plans for the year.
Must Read
Evaluating CI Solutions for Data Center Modernization
Learn the framework Forrester uses to assess cloud alternatives and view a real-life example of using the TEI approach.
Continue Reading
In addition to mobility as a major corporate opportunity, respondents to the TechTarget survey also cited a variety of related initiatives as areas of investment for 2015. These are listed below, with the percentage of respondents:
Deploy a mobile enterprise application or application development platform: 47%

Deploy mobile device management: 46%

Implement a bring-your-own-device program for smartphones or tablets: 45%

Deploy mobile content management: 36%

Implement a corporate-issued mobile device program: 35%
In addition to these initiatives, IT decision makers in 2015 are also looking at a wide range of security solutions aimed at the mobile workforce. Primary among these are network-based security (36%); identity and access management (31%); and mobile endpoint security for devices such as smart phones and tablets (23%).
12015 Purchase Intentions Survey, Tech Target, December 2014
2"Bring Your Own Device (BYOD) & Enterprise Mobility Market (Mobile Device Management, Mobile Application Management, Telecom Expense Management, Content Management and E-mail Management) – Global Advancements, Market Forecast and Analysis (2014-2019)," MarketsandMarkets, April 2014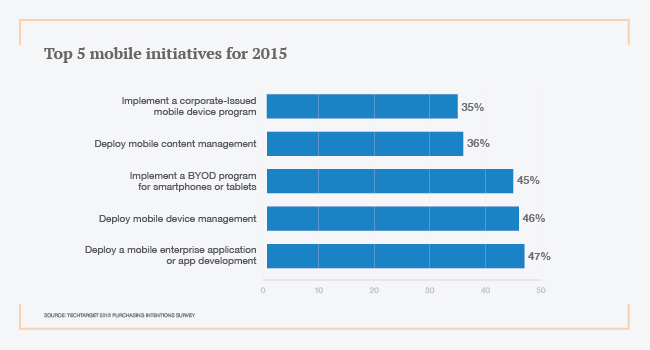 Dell EMC Solutions are powered by Intel®